September 13, 2017
"Fine acting is the pure use of yourself for living, nothing else."
Celebrating our founder, Herbert Berghof, on his 108th birthday, HB Studio presents a reading of A Betrothal by iconic American playwright Lanford Wilson featuring *Rochelle Oliver, *George Morfogen, and directed by *Austin Pendleton.
Dedicated by Lanford as a valentine to Berghof and his wife and partner, Uta Hagen, this one-act explores the encounter between two rivals at a flower breeders' competition. The evening will also feature readings from Herbert's letters, remembering him through his own words and reflections.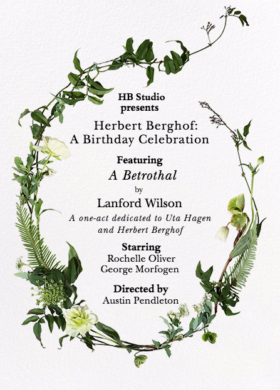 September 13, 2017
7:00 pm
HB Playwrights Theater
124 Bank Street, NYC 10014
$250 – Premiere Tickets
$150 – Preferred Tickets
 

$25 – HB Student Tickets
A Betrothal is presented by special arrangement with Dramatists Play Service, Inc., New York.