POSTPONED: PEOPLE WHO MAKE THEATER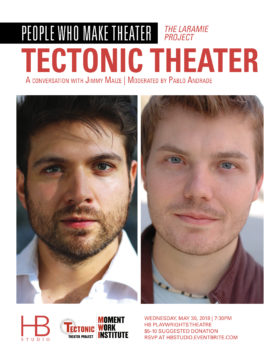 Tectonic Theater (The Laramie Project)
A conversation with Jimmy Maize
Moderated by Pablo Andrade
This event has been postponed until further notice. 
RSVP at hbstudio.eventbrite.com
TECTONIC THEATER PROJECT is an award-winning company whose plays have been performed around the world.  The company is dedicated to developing innovative works that explore theatrical language and form, fostering an artistic dialogue with audiences on the social, political, and human issues that affect us all.  In service to this goal, Tectonic supports readings, workshops, and full theatrical productions, as well as training for students around the country in their play-making techniques.
Tectonic Theater Project was founded in 1991 by Moisés Kaufman and Jeffrey LaHoste. Tectonic refers to the art and science of structure and was chosen to emphasize the company's interest in construction — how things are made, and how they might be made differently.
Its groundbreaking plays, The Laramie Project, Gross Indecency: The Three Trials of Oscar Wilde, and I Am My Own Wife among others have sparked national discourse and have inspired artists and audiences worldwide.