Presented by: Jess Williams
Gain insight into how Frantic Assembly (Movement Directors of The Curious Incident of The Dog in The Night-Time) creates new work and learn the skills to embark on your own devised projects. This day-long workshop is an active exploration of The Frantic method, which is about empowering you to be better at making theater from a physical starting point. This workshop promotes physical confidence and encourages you to look beyond self-perceived limitations within a fun and safe environment. It is fast paced, energetic and should leave you with the skills to develop your own work in a more dynamic and physically interesting way.
This 6-hour workshop will give you a strong understanding of the way Frantic Assembly works in the rehearsal room and will i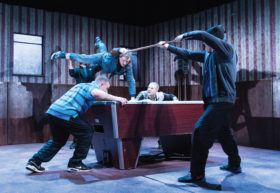 nclude:
• A thorough warm up, preparing you mentally and physically
• Tasks based on team building and spatial awareness
• Ensemble work, small group work, and pairs work
• An introduction to devising and sequencing movement and developing physical skills, including contact work and advanced lifting techniques such as those in The Curious Incident of The Dog in The Night-Time
• The opportunity to present work and workshop it to develop context and meaning
• Discussion about how you can use devising tasks in your own practice and how the Frantic Method can enrich your own work
• Interrogation and reflection on what makes interesting theater
• A cool down, reflection, and questions
NOTE: Please be aware of the physical and movement based nature of this workshop. If you have no previous experience of Frantic Assembly's work, please visit their website in advance before the workshop. If you have any special needs or medical requirements, please inform us upon registration.
All participants must wear loose and comfortable clothing and sneakers suitable for exercise. NO short skirts, NO jeans, and NO jewelry.
Frantic Assembly is an internationally renowned theatre company inspiring innovative practice and unlocking creative potential. Founded in 1994 with little more than a fierce work ethic and a desire to do something different and to do it differently, Frantic Assembly has developed into one of the most studied and praised theatre companies working today. Led by Artistic Director and co-founder Scott Graham, they have toured extensively across Great Britain and worked in 40 countries collaborating with some of today's most inspiring artists. They provided movement direction on the award-winning National Theatre of Great Britain production The Curious Incident of the Dog in the Night-Time (West End, Broadway, UK & Ireland Tour, US tour), and their productions include Things I Know To Be True (the UK and Australia), Othello, Beautiful Burnout (UK, Australia, New Zealand and New York), Lovesong, Stockholm (UK and Australia), The Believers, and movement direction on the BAFTA nominated British/American TV series Humans (AMC, Channel 4 & Kudos).