---
2018 BENEFIT SERIES
---

The 2018 Benefit Series spotlights three courageous artists who challenge and delight us. 
Join us on

December 1st + 2nd

for our kick-off event: Maricela de la Luz Lights the World by José Rivera!
$250 – Premiere Tickets ($225 tax-deductible)
$125 – Priority Tickets ($100 tax-deductible)
$25 – HB Student Tickets (Limited availability. Non-deductible)
---
MARICELA DE LA LUZ LIGHTS THE WORLD
BY JOSÉ RIVERA
"Aaaaah! My eyes are melting in my face! …"
…so begins José Rivera's fanciful, family-friendly play MARICELA DE LA LUZ LIGHTS THE WORLD*, following the adventures of Maricela and her brother Riccardo as they save the world from a trickster god and impending weather catastrophe.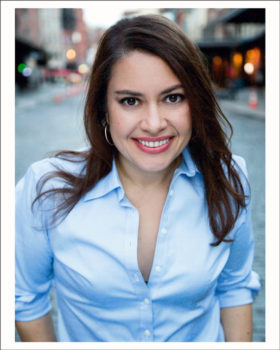 The first event of HB's 2018 Benefit Series, we hope you can join us for a special presentation of Academy-award nominated José Rivera's whimsical play, featuring Vanessa Aspillaga – star of the Pulitzer-prize winning drama ANNA IN THE TROPICS on Broadway; and directed by David Deblinger, HB faculty member and co-founder of the Labyrinth Theater Company.
Also featuring the talents of Oscar A. L. Cabrera, Paula Pizzi, Johnny Sanchez, Ron Orbach, Glenda Delli, Beethovan Oden, and Satoshi Deleanu. Don't miss this exciting and fun, whirl-wind adventure! A portion of proceeds from this reading will be donated towards The Hispanic Federation's UNIDOS Disaster Relief & Recovery Program to meet Hurricane Maria-related needs and recovery in Puerto Rico.
Friday, Dec. 1, 2017 | 7:00 PM
Saturday, Dec. 2,  2017 | 7:00 PM
HB Playwrights Theatre| 124 Bank Street| NYC 10014

*Produced by special arrangement with THE DRAMATIC PUBLISHING COMPANY of Woodstock, Illinois.
ABOUT THE ARTISTS
JOSÉ RIVERA is the first Puerto Rican screenwriter to be nominated for an Academy Award, for "The Motorcycle Diaries," Rivera is also the author of 26 full-length plays including the Obie Award-winning Marisol and References to Salvador Dali Make Me Hot, both produced at the Public Theatre, New York. Other plays include Cloud Tectonics (Playwrights Horizons, Goodman Theatre), School of the Americas (Public Theatre), The Maids (INTAR), Adoration of the Old Woman (INTAR), Massacre (Sing to Your Children) (Rattlestick Theatre, Goodman Theatre),Brainpeople (ACT/San Francisco), Sonnets for an Old Century (Barrow Group), Another Word for Beauty (Goodman Theatre), Boleros for the Disenchanted (Yale Rep, Goodman Theatre), The Street of the Sun (Mark Taper Forum), Sueño (Manhattan Class Company), and Human Emotional Process (Chaskis Theatre, London). Screenplays include "On the Road," "The 33." "Trade," and "Letters to Juliet." For television, he co-created and produced the NBC series "Eerie, Indiana," and has written pilots for HBO and Showtime. Awards include a Fulbright Arts Fellowship, a National Endowment for the Arts grant, a McKnight Fellowship, a Rockefeller Grant, a Whiting Foundation Award, and New York Council for the Arts grant. Rivera has mentored the Sundance Screenwriting Lab in Utah, Jordan, and India and leads the New York-based Writer's Group. Credit: Photo by Lela Edgar. 
David Deblinger co-founded Labyrinth Theater Company where he acted in new plays by Pulitzer Prize-winning writers John Patrick Shanley and Stephen Adly Guirgis and actors like Philip Seymour Hoffman and Ellen Burstyn. He has appeared in new plays at Labyrinth, The Public Theater, Manhattan Theater Club, Vineyard, Williamstown Theater Festival, The Old Globe, Cincinnati Playhouse in the Park and his critically acclaimed performance piece, "Lucky Penny,' is currently touring the country, next stop Houston, Texas. On TV he has appeared on BLUE BLOODS, BROAD CITY, THE SOPRANOS, SEX AND THE CITY, LAW AND ORDER, LAW AND ORDER: SVU, DAMAGES, CLUB LAND and others.
Vanessa Aspillaga – Broadway: 2003 Pulitzer Prize-winning "Anna in the Tropics" with Jimmy Smits. Off-broadway and Regional: "Daphne's Dive" Signature Theatre, "Domesticated" Lincoln Center Theater, "underneathmybed" Rattlestick Playwrights Theater (Drama League Distinguished Performance Award Nominee, HOLA Outstanding Performance by a Female Actor Award) "Chasing Manet" Primary Stages, "Paradise Park" Signature Theatre, "The Clean House" Lincoln Center Theater, "The Cataract" Women's Project, "As You Like It" Public Theater New York Shakespeare Festival, "Anna in the Tropics" McCarter Theatre, "Two Sisters and a Piano" Alliance Theatre Company, "Night of the Assassins" INTAR, "Cutting Open Wings" LAByrinth, "They Still Mambo in Havana" The Flea, "Missionaries" Brooklyn Academy of Music/ LaMama ETC/ New York Stage and Film, "Voir Dire" Long Wharf/ Arena Stage/ Seattle Repertory, "A Park in our House" New York Theatre Workshop/ McCarter, "The Lady from the Sea" Cleveland Play House . Film: "Detours," "Alex of Venice," "Tio Papi," "Gun Hill Road," "Morning Glory," "Love and Other Drugs," "Petty Crimes," "My Best Friend's Wife," "Pyrite," "Stringer," "Mr. Wonderful" TV: Blue Bloods, Falling Water, Flesh and Bone, The Jim Gaffigan Show, Nurse Jackie, Elementary, The Good Wife, Unforgettable, Rubicon, Law & Order: SVU, Law & Order, The Jury, Deadline, As the World Turns. Vanessa is a founding member of LAByrinth Theater Company and a Usual Suspect at New York Theatre Workshop.
Oscar A. L. Cabrera is a New York-based actor/playwright and member to INTAR Theater's Unit 52, an ensemble company for emerging and established new works. Some credits include: Blur at the Kennedy Center for KCACTF, Marfa Lights by Octavio Solis (INTAR); Lilia by Monet Hurst-Mendoza (Rising Circle Rep); Patience by Mariana Coreno (LATC); Basilica by Mando Alvarado (Rattlestick); Theater Masters at Theater Row; Leave Me Green by Lisi DeHaas (Kindling Theater Company), Prospect by Octavio Solis (Boundless Theater). His plays have been workshopped with The Hudson Warehouse, Black and Latino Playwrights Festival, INTAR Theater, Rising Circle's InkTank, Creede Rep Theater during their Winter Writer's Retreat this past January and Lonestar Theater. A special thanks to all my family and friends. Without them, none of this is possible.
Satoshi Deleanu is a Romanian-Japanese actor, born on September 19th, 1986, in Japan. He studied acting under Yoshimi Ito (Aize Acting Studio, Tokyo) and Hirano Zen (member of Actors Studio, NY). Started his acting career in 2009 in the Japanese TV series Utukushi Dansei (directed by Suzuki Matsuo) and the musical Missing Boys (staged at Akasaka Act Theater, Tokyo). He performed mainly on stage and in TV dramas, including leading roles in The Renegade, Episode 7 (NOTTV, 2013), On-myoya he yokoso, Episodes 7 and 8 (Fuji TV, 2013), Samurai High School (Nihon TV, 2009), etc. His stage performances include Garnet Opera (2010), New Heroines (2012, Hakuhin-kan Theater), Godzilla Reporter (2011, Theater Molieri), etc. Satoshi has been a regular student at HB Studio, New York, since 2017.
Glenda Delli is an internationally trained actress from Italy, who also trained in at the Bristol Old Vic Theatre School (UK), The Actors Temple (UK), Maggie Flanigan Studio (NYC) and HB Studio (NYC). She has starred in in La Fuga di Teresa, a film for TV directed by Margarethe von Trotta and her theatrical credits includeNight Vision (Labyrinth Theater), Twelve Angry Women (Roebuck Theatre), Red Roses and Domestic Acid (Hudson Guild Theatre); and Dangerous Liaisons (Bristol Old Vic Studio). Glenda changed careers 8 years ago from Aerospace Engineering to acting and she's never looked back.
Beethovan Oden is a native of Oakland, California who residences in New York City. He is a graduate of both Cornish College of the Arts (B.F.A) and Southern Methodist University (M.F.A); A winner of the Black Theatre Alliance-Ossie Davis award-Best Featured Actor and The blackstage Festival's- 2014 award- Best Actor. Off-Broadway credits: New Federal Theatre The Fabulous Miss Marie and Luna Stage Company Master Harold…And The Boys. Regional credits: Capital Stage Company, Cape Fear Regional Theatre, Victory Gardens Theatre, The Dallas Theater Center, Seattle Repertory, Colorado Shakespeare Festival, Shakespeare Santa, Indiana Repertory & Nebraska Shakespeare.
RON ORBACH – Broadway: LAUGHTER ON THE 23rd FLOOR (Ira Stone/Max Prince–Also, Chicago premiere, national tour, and ACT, Seattle, where he also directed); CHICAGO (Amos Hart, 1st national tour, 1998 Jeff Award); DANCE OF THE VAMPIRES; NEVER GONNA DANCE; SOUL DOCTOR. Off-Broadway: HARRY CHAPIN: LIES & LEGENDS (Also, Chicago, and LA, Pasadena Playhouse); HOTEL SUITE (Roundabout); THE GOD COMMITTEE (The Lambs). Regional: PICASSO AT THE LAPIN AGILE (Sagot, Old Globe); ALL THE DAYS (Del, McCarter Theater); A COMEDY OF TENORS (Saunders, world premiere, Cleveland Playhouse/McCarter Theater); THE TWENTY-SEVENTH MAN (Old Globe); A MIDSUMMER NIGHT'S DREAM (Bottom, Chicago Shakespeare Theater, 2012 Jeff Nomination); FIDDLER ON THE ROOF (Tevye, Sacramento Music Circus); A FUNNY THING HAPPENED ON THE WAY TO THE FORUM (Pseudolus, Denver Center); ENTER LAUGHING (Mr. Foreman/Marlowe, Berkshire Theater Festival); MOONLIGHT AND MAGNOLIAS (David O. Selznick, Goodman Theater, world premiere). Film: "Clueless" (DMV Tester). Recent TV: "Girls". Mr. Orbach is also an acting coach and a director.
Paula Pizzi – Theatre: Los Monólogos (Westside Theatre), Underneathmybed (Rattlestick), Face Cream (E.S.T). Where's My Money (MTC/Labyrinth) Wit (original Off-Broadway company – Union Square Theatre, MCC, Geffen Playhouse, Long Wharf Theatre,) Clean (Atlantic Theatre Co/Hartford Stage), Another Part of the House, (CSC), Dark Rapture (Pope Theatre). Dating Dummies (Labyrinth) T.V./Film: Almost Anonymous, Loserville, The Smurfs, Frágil, Lloró, L&O, City of Angels, L&O: Special Victims Unit. Member of Labyrinth Theatre Co, Barefoot Theatre Co, New Circle and the PDU at the Actors' Studio.
Johnny Sanchez was born and raised in Brooklyn, N.Y. to undocumented parents.  Due to his parent's immigration status, he was labeled an "Anchor Baby".  But he's older now, so he prefers "Anchor Man".  With over 30 years of experience in Film, T.V. and Theatre, Johnny is a multi-hyphenate (actor+writer+producer).  In the 3rd grade, Johnny was cast as Rabbit #3 in the school's Christmas show.  This experience informed his life.    Not only was his commitment to being Rabbit #3 unparalleled, he was he THAT rabbit, but the moment the curtains went up Johnny realized that the gap between the audience and him dissipated. At that young age, he saw stories have an ability to unite people.   So, from that moment on, he committed his life to the pursuit of storytelling.  He attended La Guardia High School of the Performing Arts.   After graduating high school, Johnny worked with such directors as Steven Soderbergh, Michael Bay, Frank Oz, Herbert Ross, John Badham, Hugh Wilson and David Deblinger; to name a few.  As a member of LAByrinth Theater Company for 12 years, Johnny honed his creative voice.  Wanting to spread his wings even more, he started producing.  He Co-Produced FIND ME GUILTY directed by Sydney Lumet, starring Vin Diesel & Peter Dinklage; and EVEN MONEY starring Academy Award Winners Kim Basinger and Forest Whitaker.   He co-wrote and produced A THROUGH M, a political, Sci-Fi, short film that won Best Dramatic Short Script.   Most recently, Johnny produced the short films NOISE (Director Max Williamson) and MUSCLE (Director Heidi Marshall), leading them through all phases of production.  MUSCLE won Best Narrative Short Film and The Best of Fest Award. Johnny gravitates to stories that depict statistically underrepresented communities, and highlight the struggled and triumph of the human spirit.  He loves entertaining and inspiring the viewer to create personal and social change.
---
We wish to express our gratitude to the Performers' Unions:
ACTORS' EQUITY ASSOCIATION
AMERICAN GUILD OF MUSICAL ARTISTS
AMERICAN GUILD OF VARIETY ARTISTS
SAG-AFTRA
through Theatre Authority, Inc. for their cooperation in permitting the Artists to appear on this program.
---
Having trouble with reservations for Maricela de la Luz Lights the World? Contact Sara Kuntz, Audience and Development Coordinator, at 212-989-6540 or skuntz@hbstudio.org
Questions about the 2018 Benefit Series? Contact Megan Foehr, Development Manager, at 212-675-2370 ex. 39 or mfoehr@hbstudio.org
---
UPCOMING EVENTS
---
HB CELEBRATES LEONARD BERNSTEIN AT 100
Leonard Bernstein – composer, conductor, educator, musician, cultural ambassador, and humanitarian – is one of the most iconic artists of the 20th century. Bernstein's steadfast belief in the power of art to lift, transform, delight and educate was his antidote to a world full of violence and unpredictability.
We hope you can join us as we participate in the worldwide #Bernsteinat100 celebration, leading up to Bernstein's 100th birthday in 2018.
Monday, March 5, 2018 | 7:00 PM  
Student Tickets on-sale: February 19, 2018
Credit: Photo by Al Ravenna, 1955, courtesy of the Library of Congress
---
AFTER-PLAY: A TRIBUTE TO ANNE MEARA
Emmy and Tony-nominated actress, comedienne and writer Anne Meara was outspoken, hilarious, and candid, and one of HB Studio's dearest alumni friends. Directed by David Saint, we hope you will join us for a reading of Meara's award-winning After-Play, a dramedy about two show-biz couples having dinner at a chic Manhattan restaurant after a must-see Broadway show. The couples soon realize that even after a lifetime of friendship, everyone has their secrets.
Monday, June 4, 2018 | 7:00 PM
Student Tickets on-sale: May 21, 2018
Credit: Photo with permission by WME, from the archives of Jerry Stiller and Anne Meara.
---
Unable to attend, but would still like to support HB Studio? Click here to make a donation today!
Questions? Contact The HB Development Team at development@hbstudio.org or 212-675-2370 x. 39. 
---
Proceeds from each benefit event support HB Studio's World-Renowned Training, Practice,
and Development Programs for Aspiring and Professional Theater Artists.

---
 Credit: Graphic design by Sarah Peavey
---