HB Studio is proud to participate in #NYGIVESDAY on Tuesday, November 29, 2016. A 24-hour online giving challenge, #NYGivesDay celebrates the transformational work of New York non-profits. On November 29, donations to HB Studio for #NYGIVESDAY will benefit the HB Scholarship Fund, in tribute to the students who are the heart and soul of our mission. Donate Today!

Many know that HB Studio is an artistic home created by theater artists, for theater artists. But did you also know that HB Studio is a non-profit organization?
This means that every dollar HB Studio earns through donations goes towards supporting a commercial-free space where each artist can explore and cultivate their own unique potential. Through the donations of our students, alumni, colleagues and dear friends, HB Studio is able to offer theater artists:
Affordable, versatile classes and workshops.
Scholarships for artists at every stage of their career.
An artistic home for theater artists in the heart of Greenwich Village.
All of this is only made possible through your generosity.
Our founders never turned a student away because of their financial struggles. If you came to HB to follow your passion, the door was never closed to you. The HB Scholarship Fund exists to keep that commitment, and to support our belief that talent is a precious resource that should never be wasted.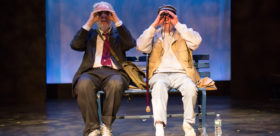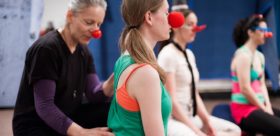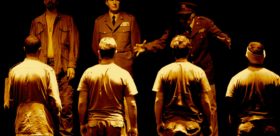 A gift to the HB Scholarship Fund lifts barriers to access and helps promising artists reach their full potential. It is a gift to the future of theater.
Our scholarship recipients are a diverse group of artists. Each year, we offer 150 students the chance to study on scholarship, but this represents only 5% of the artists we have studying here at HB. Help us grow this number! In an increasingly expensive city, through the HB Scholarship Fund we help:
Struggling actors get the support they need to start strong in a tough industry.
Life-long learners develop their artistic skills and creative projects.
Professional artists maintain and develop their craft.
The HB Scholarship Fund exists to bridge the gap between promise and possibility. But it is only through your help that we will continue to make that difference.
This #NYGivesDay, we ask you to remember when a remarkable performance has brought you understanding or delight. Please give the gift of opportunity to more HB students on Tuesday, November 29, and help this proud New York non-profit continue to support those possibilities.