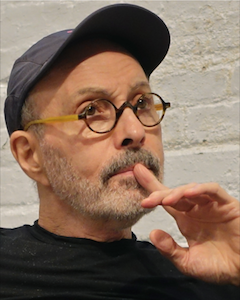 TEACHING STATEMENT:
"Having trained actors at HB studio since 1966, learning the technique of acting has been made simple and uncomplicated. Aiding each actor to discover his or her individual personal approach to the noble craft of acting.

"In my Acting 1 class, my goal and is to help the actor acquire the knowledge of technique. Exercises involve structured improvisations with a partner, adding to the scene each week a technique factor; the use of props, and the implementing of the technical adjustments I give. The main focus is to create absolute freedom on stage and move beyond self-consciousness. What I hope you will get out of class is a sense of fun and play and a deeper understanding of acting technique. The class is not generic, nor is it academic. Each person is different, therefore the approach is geared to each individual actor. My comments are prescribed specifically for each actor.
"My Acting 2 class focuses on what is involved in animating a scene, and how to learn lines without memorizing.
"In Scene Study 2, we focus on investigating the scene in relationship to the play as a whole, and connecting with the circumstances of the scene in order to experience the reality of the situation. You work on a five minute scene in addition to a two minute monologue.
"In Scene Study 3, the focus is on character development, relationship development, and investigating the intent of the play as a whole.
"My Scene Study – Study Practice class focuses on everything that is involved in working on a full production — from script analysis to physical and psychological choices, and what is involved in the development of the ark of the play.
For all of my classes, when you come to class sign your name and your partner's name on the exercise sheet, so we know that you're ready to do your exercise. It is expected that you get to class on time, and touch base with your partner during the week via email or phone, to prepare the scene for class."
BIO:
Studied acting with Herbert Berghof and William Hickey. Teaching: HB Studio since 1966, Technique & Scene Study; Tisch School of Film & Television at NYU, Directing the Actor and The Actor's Craft; The Singers Forum, Musical Theatre. Broadway: NATHAN WEINSTEIN, MYSTIC, CONNECTICUT, for which he also served as Associate Director. Pre-Broadway tour with E.G. Marshall in THIS WINTER'S HOBBY. Regional: Harry Roat in WAIT UNTIL DARK (Alhambra Dinner Theatre) and Jerry in LOVERS AND OTHER STRANGERS (Windmill and Coachlight Dinner Theatres). Off-Broadway: Archie in William Inge's THE DISPOSAL on Theatre Row; The Husband in James Purdy's DON'T CALL ME BY MY RIGHT NAME; The Doctor in Max Frisch's ANDORRA; Czernieskiewicz in A SEXUAL INCIDENT by H.N. Levitt. Originated the role of The Man in William Packard's THE LIGHT OF LIFE (Tribeca Lab). Created the role of Sigmund Freud in William Packard's THE PSYCHOPATHOLOGY OF EVERYDAY LIFE (J.E.T. Theatre). Served as director for both Packard plays. HB Playwrights Foundation: The Man in THE MOTHER COMPANY. Film: Michael Blomberg in Sidney Lumet's PRINCE OF THE CITY. TV: Sam Dobson in ALL MY CHILDREN and Sam Masters in AS THE WORLD TURNS. Directing: Premiere production of Israel Horovitz's FREE GIFT (Crane Theatre); Neil Simon's LAST OF THE RED HOT LOVERS (Center Stage Theatre); Alan Bennett's TALKING HEADS (Flatiron Playhouse); George Hammer's TWILIGHT IN BERLIN (Center Stage Theatre); Jean Cocteau's THE HUMAN VOICE (Atlantic Fringe Festival). Experimental Workshop: Terence McNally's NEXT; Arthur Miller's A VIEW FROM THE BRIDGE; William Gibson's TWO FOR THE SEESAW; Henry Slesar's THE VEIL. HB Studio's First Floor Performance Series: Frederick Stroppel's SINGLE & PROUD and Christopher Durang's WANDA'S VISIT; RUTH DRAPER MEETS DOROTHY PARKER. Recently directed TRAPPED—2 original one-character plays at Theater for the New City. Author: ACTING: WALKING THE TIGHTROPE OF AN ILLUSION—ZEN LESSONS FOR ACTORS IN LIFE AND ON STAGE, based on transcripts from his invitational class, Experimental Workshop; and, MEDITATION: TO BLOW THE MIND. Both are available as ebooks.