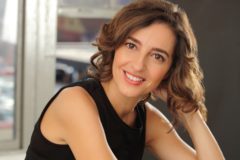 TEACHER STATEMENT:
"I regard the theatre as the greatest of all art forms, the most immediate way in which a human being can share with another the sense of what it is to be a human being"
– Oscar Wilde
"The best way to teach anything is to make it fun and involve as many of the five senses as possible. The class is guided by the joy we all experience when acting and living in discovery. I believe in being patient with the process, having joy in the experience and celebrating being a human being and awakening to each moment of our existence. I am passionate about teaching and the performing arts. I believe in the power of integrative approaches for personal and professional growth. I enjoy working with people, and helping them grow through acting. As a fluent speaker of Spanish, Catalan, French and English, I have come to understand the value of a multilingual and multicultural worldview."
BIO:
Maria Fontanals is Spanish actress and faculty member at HB Studio where she teaches Uta Hagen's technique in Spanish. Cofounder of Corezon, an independent theater and audiovisual company based in NYC. She is a proud an alumna of HB Studio and the Uta Hagen Institute.
With ten successful years under her belt as a career economist, and a hard-won degree in that discipline, she was financially comfortable and poised for a well-deserved promotion at the Barcelona, Spain utilities company where she worked. But her inner voice nagged relentlessly, prodding her to leave the security of her corporate post and pursue her passion for acting in earnest. She set out for New York's prestigious HB Studio, to pursue studies in acting (awarded for a scholarship).
She nurtured her acting avocation by earning a three-year degree at Barcelona's Eòlia School of Dramatic Arts, working by day at her economist's job, and studying by night.
Until she set sail for New York, she felt she "was dying." She owned a home, socialized often with good friends and family and enjoyed her professional responsibilities/relationships, as well as the mutual respect of her employer/co-workers, but something was askew. Once immersed in the HB Studio's intensive study of acting, and exhilarated by the inspirational professionals teaching the experiential curriculum, she finally found her groove!
As an actress, Maria has worked with renowned theaters such as Theater for the New City, Teatro Círculo, Russian Arts Theater, IATI, HB Playwrights Foundation, Teatro SEA, to name a few. She has an extensive experience on stage in the United States and Europe. Select theater credits include: CITY GIRLS AND DESPERADOES – EL DIVÁN – SEIS – OLEANA – BRILLIANT TRACES – BALM IN GILEAD – KING LEAR – DANCING AT LUCHNASA – MIDSUMMER NIGHT'S DREAM. Recent TV/film includes: SIX DEGREES OF MURDER (ID Discovery Channel) – DISTANT INTERIORS – OUR MIDDLE OF SOMEWHERE (expected released Summer 2018) – LATINER (2015 Selected Official for the Latino Short Film Festival) – SUPER WINGS: BARCELONA BIRDHOUSE (voice over).
Within the past year, she has been awarded the national HOLA Award 2018 and 2017 for Outstanding Performance by a Female Actor – ATI Award 2018 – FUERZAFest Award 2017 for Best Actress – Latin ACE Award 2017 for Best Comedic Actress – ATI Award 2017 for Best Supporting Actress.
---
Maria Fontanals es una actriz de teatro de Barcelona con una larga trayectoria profesional. Becada por HB Studio, pone rumbo a Nueva York donde inicia dos años de formación. Durante sus años de estudio, queda profundamente impresionada por la gran profesionalidad de sus profesores y la magia de la ciudad. Encontró su hogar y decidió quedarse en NYC. Su trayectoria profesional ha transcurrido principalmente en los Estados Unidos y México. Sus principales trabajos han sido: Federico García vuelve a nacer, 3xBeckett=…, Oleanna, Brilliant Traces, Balm in Gilead, Cuentos de Guerra, Rey Lear, Danza de Agostoy Sueño de una noche de verano entre otras. Cofundadora, junto con Pablo Andrade, de la compañía teatral Corezon con sede en NYC. Nominada Actriz Revelación por los Premios ACE 2015; y también obtuvo una nominación como Mejor Actriz por su papel de 'Narda' en Cuentos de Guerra.